We'll admit it: we're suckers for year-end posts, whether it's an expected list like "The Best Albums of 2016" or something a little more niche, like "19 Times Liam Hemsworth Blessed Us On Social Media in 2016" (it's real, Google it).
So to do our part, we're counting down the five biggest water and coffee moments of 2016.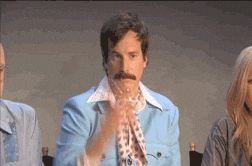 5. LaCroix. Everywhere.
You couldn't casually scroll through Instagram or take a lap around the office with being inundated with the shimmering metallic can of LaCroix, a flavored sparkling water brand that's become a must-have accessory.
Of course, we indulge from time-to-time, but we're bigger fans of making our own flavor-infused water with infused water bottles (try one of these infusion recipes to start, and then let us know how much you loved it).
4. Water and Coffee, BFFs
We're guessing you were aware that water is a key ingredient in coffee (and if you weren't, we haven't done our jobs right). In 2016, coffee-lovers became a little more attentive to what water they were using to make that coffee. There's a reason you see state-of-the-art water filtration systems in upscale coffee shops — it's because using a higher quality of water will drastically improve the taste of your coffee. Try making your drip brew coffee with filtered water for a few days and see if you agree.
3. USA Dominates the Water at the Olympics
With superstars like Michael Phelps and Katie Ledecky on the roster, the USA ran away with the swimming portion of the 2016 Rio Olympics. Plus, we're not over the Michael Phelps death stare or the Katie Ledecky finger-wag yet.
2. Starbucks Adds New Latte in 2017
Okay, so this one *technically* hasn't happened yet, but they released news about it in 2016, and that's good enough for us. In 2017, Starbucks plans to expand its food menu with more gluten free options for breakfast and lunch, as well as more lunch options, like organic soups.
Even more importantly to our caffeine-loving hearts, Starbucks will unveil a new fancy-sounding latte: the Cascara Latte, which will be made from the actual fruit of the coffee cherry. You can expect it to taste subtly sweet, with hints of dark brown sugar and maple. You can also expect us to be first in line to try it (with our stainless steel coffee mugs in hand, of course — gotta get that ten-cent discount).
1. The Water Bottle Challenge
Okay, we'll admit it: a single-use plastic bottle of water had the biggest moment of the year. Everyone attempted it, from LeBron James to Al Roker to Cristiano Ronaldo; not everyone succeeded. We get it, it was fun and exciting. But can we please get back to using reusable BPA-free water bottles in 2017, please?
Back to Blog Home