Around our corner of the office, donuts reign supreme. Every birthday requires a team field trip to pick up an assorted half dozen, and our tasting method involves meticulously cutting each donut in half so that we can each taste more without absolutely wrecking our stomachs for the day.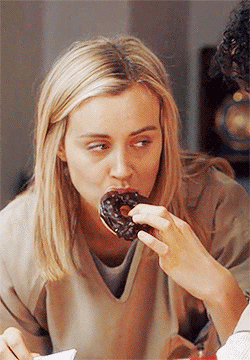 So, you can bet that we've had National Donut Day circled on our calendars in red for quite some time. And in our opinions, nothing goes better with a fresh old fashioned than a hot mug of coffee. In Chicago, we're lucky enough to live at the crossroads of amazing local coffee roasters and some of the most creative donuts the world has ever seen. We want to share the wealth with you, so here are our top five picks for best places to get coffee and a donut in Chicago (don't forget your reusable stainless steel travel mug for your brew of choice).
Stan's Donuts & Coffee
While Stan's technically started out on the West Coast,
they've quickly become a favorite in this corner of the Midwest, thanks to their kitschy, old-fashioned décor and their dizzying array of donut and baked goods options (the peanut butter pocket, cinnamon sugar pretzel, and apple fritter are bigger than your face, guaranteed). And on a hot day, there's nothing better than pairing your doughnut with a gelato shake, complete with a mini donut on the straw (we love the biscotti flavor).
Our pairing pick: Lemon Pistachio Old Fashioned + Stumptown Nitro Cold Brew. The unmistakably bright green Lemon Pistachio Old Fashioned is one of the best donuts in Chicago — just sugary enough without being too rich — and the Stumptown Nitro Cold Brew is brewed without heat for 12 hours and has a slight chocolate finish. Warning: you might experience a sugar rush.
Glazed & Infused
Go ahead and giggle at the name, we'll wait. In the meantime, we'll be drooling over Glazed & Infused's current specials. This casual donut shop focuses on local ingredients whenever possible and rotates their menu based on seasonal and holiday flavors. They were one of the first Chicago locations to pioneer the Red Velvet Donut, and they always have a "Happy Birthday" sprinkle donut for that special occasion (even if it's just a Monday). Need to take your Friday-donuts-in-the-office game to the next level? Order one of their jumbo donut cakes that's over a foot in diameter.
Our pairing pick: Maple Bacon Long John and a Sparrow Coffee Roasters' Kenyan Blend coffee for a complete balanced breakfast. The Maple Bacon Long John earns rave reviews across the city, and this coffee blend cuts through some of the sweetness.
Do-Rite Donuts & Coffee
Do-Rite's donut philosophy in a nutshell? Quality over quantity, taken to the extreme with small-batch donut creation (never more than 36 at a time). With such small batches, you're guaranteed a fresh donut, no matter what time you roll through. Because of this attention to quality, their menu is a little smaller than what you might see at other donut shops — but don't worry, you'll find something to love, whether it's the Valrhona Chocolate Cake glazed donut or the Vanilla Bean Glazed Cinnamon Crunch.
Our pairing pick: Chocolate Old Fashioned with Dark Matter Coffee. Dark Matter Coffee is also dedicated to the art of small batch brewing, so sip on your handcrafted coffee and donut and revel in your refined palate.
Doughnut Vault
If it weren't for the line snaking around the block, you might completely miss this tiny donut shop on the side of a random River North building. The Doughnut Vault space might be small, but the flavors are big, especially in the Triple Chocolate donut and the Lemon Poppy Seed donut (both old-fashioned donuts, the Vault's specialty). Not feeling up to waiting in line? Try to track the Vault Van, a donut-toting shop on wheels, open seven days a week and serving their old-fashioned donuts plus one rotating daily special.
Our pairing pick: Toasted Almond + Metropolis coffee, which the Vault has roasted exclusively for them. Just get there early, before the lines get too long or (gasp!) the donuts sell out.
West Town Bakery
While this bakery may be more well-known for their other offerings, their donuts are diamonds in the rough, just waiting to be discovered by your taste buds. West Town brought the doughssant to Chicago (fried croissant dough with seasonal fillings in a long john form), and they also boast a classic selection of donuts (chocolate glazed, vanilla glazed, maple bacon, and more) sure to delight.
Our pairing pick: The Dark Matter donut and the house Dark Matter Coffee blend. Get caffeinated in two separate forms. The Dark Matter donut is a chocolate cake, topped with caramel-espresso glaze and chocolate shavings, and it wouldn't be right to try it without having a Dark Matter coffee blend alongside.
National Donut Day is bigger than Christmas, the Super Bowl, and the first 24 hours of a surprise Beyonce album combined — celebrate accordingly with a specialty donut, and maybe dunk it in your stainless steel travel mug if you're feeling fancy. Happy donut-eating!
Back to Blog Home