December has that holiday glow around it; January is exciting because of fresh starts and New Year's resolutions. But February? Let's be honest, it's kind of a blah month. All too often, we find ourselves hunkering down indoors, hiding under the covers and waiting for winter to pass and the first signs of spring to show up.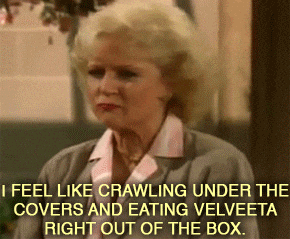 With an attitude like that, it's easy to let your workout routine slide, especially if you're a runner or someone who typically exercises outdoors. Try busting out of your winter workout slump with some of these ideas.
Set a Ten Minute Limit
Try making a deal with yourself that you're only obligated to work out for ten minutes; after that, if you're not feeling it, you can quit with no hard feelings. Surely you can get up and move for ten minutes, right? Whether it's going out for a quick job or doing ten minutes of bodyweight exercises with an app like Nike Training Club or Sworkit, ten minutes of exercises is better than no minutes. More often than not, you might find that at the end of ten minutes you're feeling warmed up and motivated to keep going for longer than ten minutes.
Move First Thing in the Morning
In winter months when the mornings are dark, it can feel near impossible to rouse yourself out of bed a minute earlier than absolutely necessary. But if you can take that first brave step out of bed and towards a workout, you'll reap the benefits for the rest of the day. You'll be more focused, happy, and alert during the day's later hours; you'll be less likely to skip your workout; and you'll get a quick metabolism boost. Plus, if your exercise takes place outdoors, you'll get some much-needed Vitamin D first thing in the morning, which can help your energy and mood for the rest of the day.
Check Out a New Gym
Take advantage of all the New Year specials most gyms offer this time of year and check out a class or gym you've always wanted to try. In many places, you can get your first class free or your first month at an extremely discounted rate. Grab your favorite protein shaker bottle and explore the gyms in your city — you might be surprised by what workouts you fall in love with.
Treat Yourself to New Workout Gear
Whether it's a splurge pair of tights that you've been lusting after, a new pair of shoes for your next race, or a protein shaker bottle that you'll actually look forward to using, few things are more motivating than new gear. Don't let it gather dust in the back of your closet; get that gear out to the gym or your favorite running path and bask in the compliments and "Where did you get that?!" comments from your fellow exercisers.
What's your number one way of breaking out of a winter exercise slump?
Back to Blog Home